Juicy Footjob on the Cockbox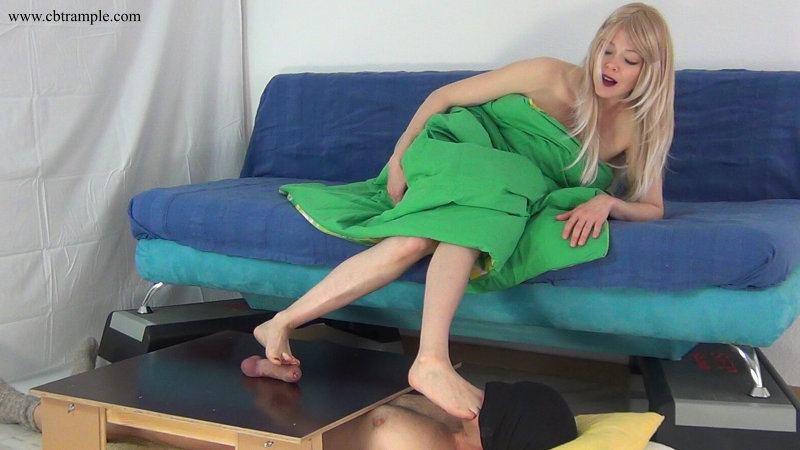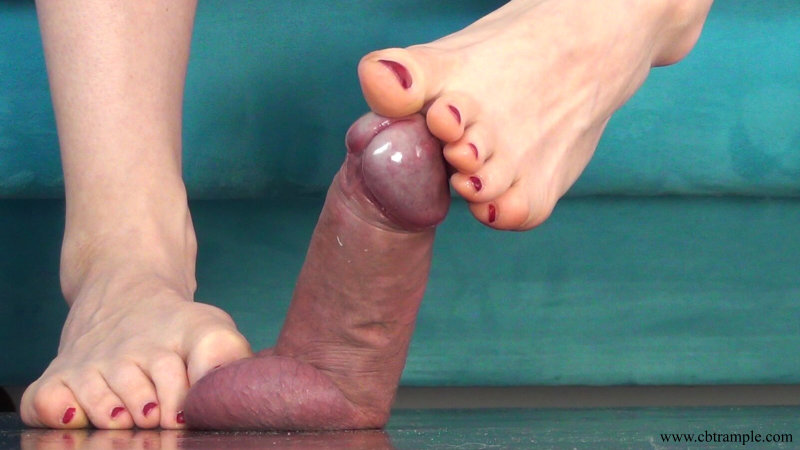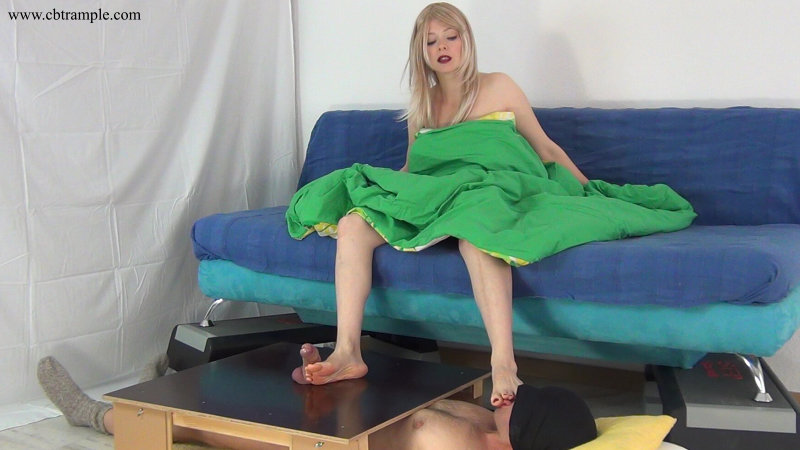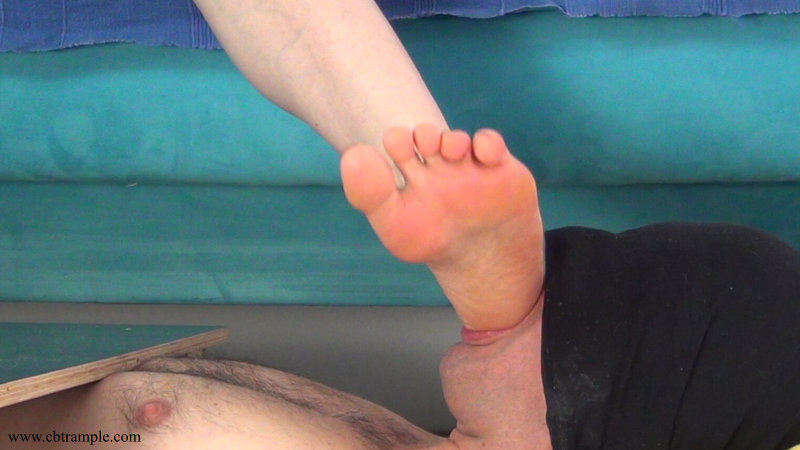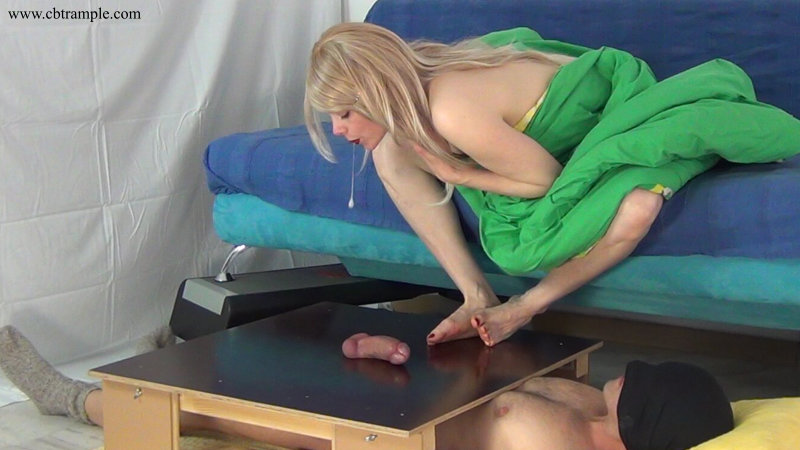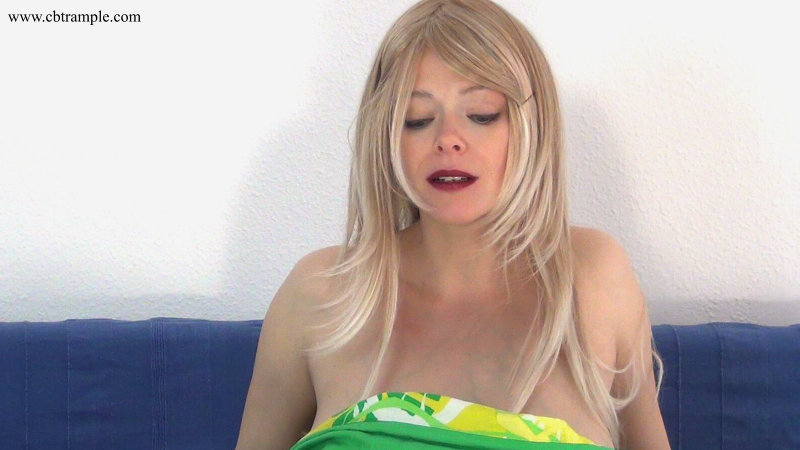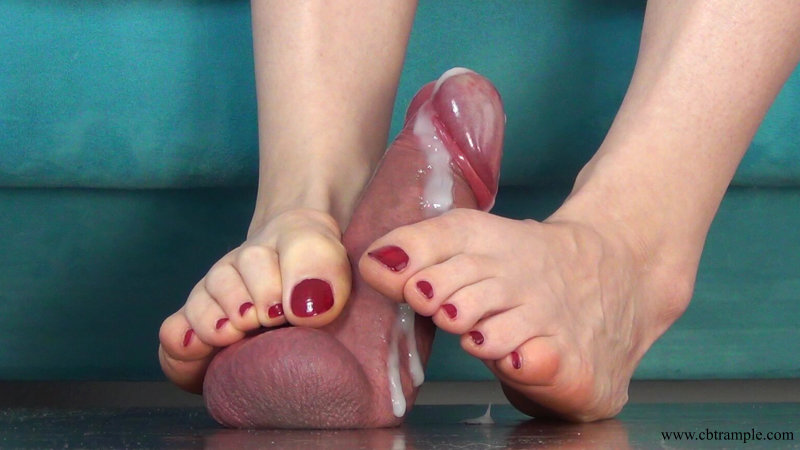 Dream Footjob
Is it possible that watching a footjob is compelling for 30 minutes? That you are hooked all the time and that you are being surprised again and again. It can if it's done by awesome Mistress Alina.
Seductive, demanding, dominant and bratty looks. We added so many scenes of her stunning face and ooops, did we forget to mention that she is NAKED just covering herself with a blanket, but maybe she allows us one or two glimpses on her areola…
But let's tell the story from the beginning. Alina is dozing on the sofa with her slave in front of her. He is lying under the cock box with his genitals stuck through the hole.
Alina wakes up and touches his genitals with her feet. Gently she plays with his cock and balls, she touches his mouth with her foot and the slave must kiss it. And then she starts. Alina rubs his cock between her feet, she plays with his balls varying pressure and intensity. Once she stands up and tramples his crotch. She really kicks them hard making her slave groan and then she is tender again – simply Alina.
A bit later she pulls back his foreskin with her toes and rubs his unprotected glans between her toes. It is a bit dry, she must have thought, so Alina pushes one foot deep into slave's mouth, GAGGING HIM WITH HER FOOT and forcing him to lick her toes and her heels and then she creams his glans with her moist foot. But it it still too dry so she SPITS A BIG STREAM OF HER WARM SALIVA ONTO HIS GLANS and with her toes she spreads it allover his cock, balls and her own soles. This scene is SOOOOO HOT and Alina will repeat it over and over again – whenever his cock has become too dry.
With her wet feet she plays with slave's cock and balls and absolutely awesome game. Slave's cock is rock hard all the 30 minutes and several times she almost makes him cum, but "No! You must wait." Again the Mistress pushes her foot deep into his mouth and he must lick the mixture of his own precum and Alina's saliva from her foot. "DO YOU LIKE THE TASTE OF MY SPIT?" Hehe…
Don't miss the scene when she SQUEEZES HIS TESTICLES ROUGH UNDER ONE HEEL AND PLAYS TENDERLY WITH HER TOES WITH HIS BARE GLANS – this is heaven and hell at the same time. The Goddess makes her slave crazy with her gorgeous feet. And after almost half an hour she takes it to an end. With her toes she rubs his frenum until he cannot hold back any longer.
SEVERAL BIG STREAMS OF CUM SHOOT OUT OF HIS COCK, running down his glans and shaft onto Alina's feet – ABSOLUTELY HOT CUMSHOT SCENE IN CLOSE-UP VIEW – and then Alina plays with his sperm with her toes, soles and heels. After all she wipes off the cum from her feet on his mouth before the Mistress goes back to sleep on the sofa.
…